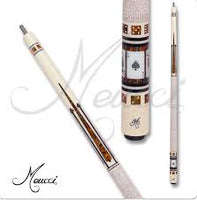 We are now a Meucci Cue Dealer
New to Cue Sports Canada, Meucci cues and shafts. Meucci is a world leader in the design and creation of superior quality, high performance pool cues. Their cues are designed to provide more power with less effort.
Shop Meucci Cues
Lynch's Original Cue Balm
GOOD FOR YOUR CUE 
CLEANS FEEDS PROTECTS AND SMOOTHS ALL WOODEN CUE SHAFTS FOR ALL CUE SPORTS DISCIPLINES.
CONTAINS NATURAL WAXES INCLUDING LOCALLY SOURCED BEESWAX.
GOOD FOR YOUR GAME 
INFUSED WITH ESSENTIAL OILS WHICH HAVE PROVEN QUALITIES TO REDUCE STRESS & ANXIETY.
CAN HELP TO INCREASE FOCUS AND REDUCE NERVOUS TENSION IN SHOT DELIVERY.
Read the review by Sneaky Pete Mafia:
Contact us if you want to become a dealer in the USA or Canada.